Early On
Tom Harrison and Maribeth Seaton met in 1980 while both were in the wine business in Southern California. Shortly afterward, they began to conduct monthly wine tastings, with complementing cuisine, at the wine shop/deli that Maribeth managed. Soon the tastings blossomed into requests for catering. The tastings and caterings often included Tom's own pickled vegetables, preserves and sauces.
In 1984, Tom and Maribeth opened the first of their two restaurants, The Black Sheep Bistro, in Orange County, California. With Tom as Chef and Maribeth overseeing the dining room, the Bistro flourished.  Sold in 1989, the Bistro continued to thrive with its second owners, Rick and Diana Boufford.
Later on
After selling their second restaurant, the Black Sheep Café near Virginia City, Nevada, Tom & Maribeth wound up back in the wine business in Temecula, California. There Tom began pickling various vegetables and after prodding by friends, decided to test market his creations at the Temecula Farmers Market.  Black Sheep Gourmet Foods was born.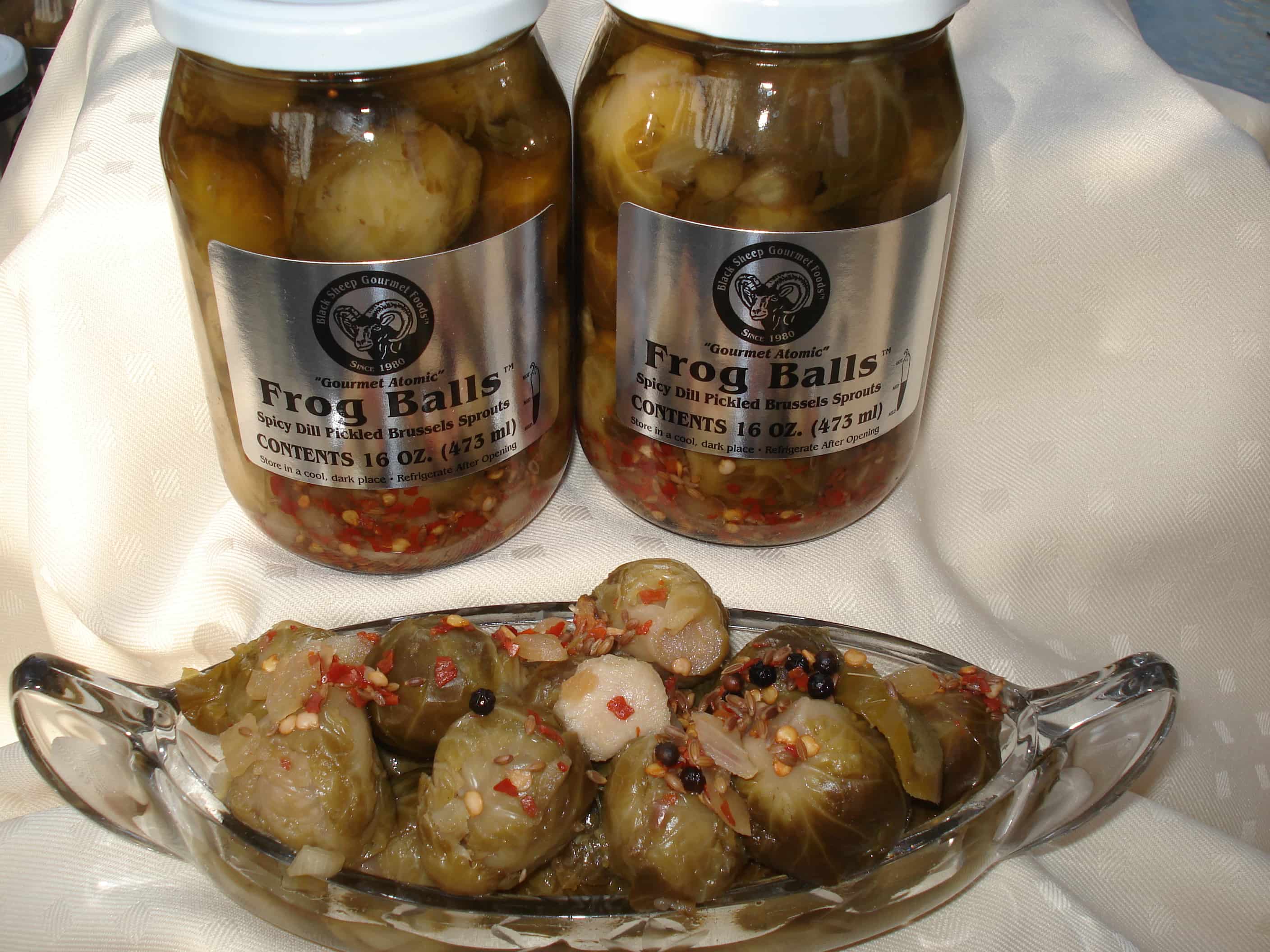 Frog Balls come to pass
One day, a farmers market regular customer asked if Tom could dill pickle some Brussels Sprouts for her, and he did. The Brussels Sprouts proved popular, but they needed a proper, interesting name. Well….Tom's little sister, Bonnie, decided when she was about six years old, that those odd green things on her dinner plate were green like a frog and round like a meatball, therefore they must be "frog balls." Atomic Frog Balls were born. Fruit preserves infused with wine reductions, gourmet sauces and premium stuffed olives round out Black Sheep's line.
The Partnership
Long time friend and travel wizard, Bob Singh, founder and CEO of Pinnacle Travel Service, gently but persistently urged Tom and Maribeth to grow with these and other new products. Now a Black Sheep partner, Bob serves Black Sheep well as financial advisor, sounding board, constructive critic, fellow food-a-holic and treasured friend. Thanks go to Maribeth's close childhood friend, Marlene (Bob's wife) for introducing all of us way back when!
Today Maribeth, together with husband and co-worker Terry Murray, carries on the Black Sheep Gourmet Foods tradition of deliciously different gourmet food products.  
For tasty gourmet treats, recipes and wine suggestions, please continue on to our on-line store and our constantly growing recipe section. If you have, or think up, a recipe or usage idea, please share with us! A great number of our listed ideas are from customers and friends. We have tried them all and recommend them highly. Bon appetit!